Epesi Cloud Hosting
Over years we have experienced many Epesi users trying inexpensive hosting providers and failing due some configuration issues. This is why we have created the Epesi Cloud PaaS platform. It has been designed to provide hosting services for any LAMP stack PHP compatible applications, these included in Softaculous Auto Installer and especially fine tuned for our own Epesi software.
We are not a volume hosting provider but VIP, only for Epesi customer base.
Free 90 days Trial
Our hosting starts with 90 day free trial period with no credit card needed. You will try it first and than decide if it works for you. After or during the trial you can upgrade your plan to most suited for your needs. If you decide not to continue hosting service, you will be able to download the data stored in your Epesi.
Try Free 90 day Epesi Cloud trial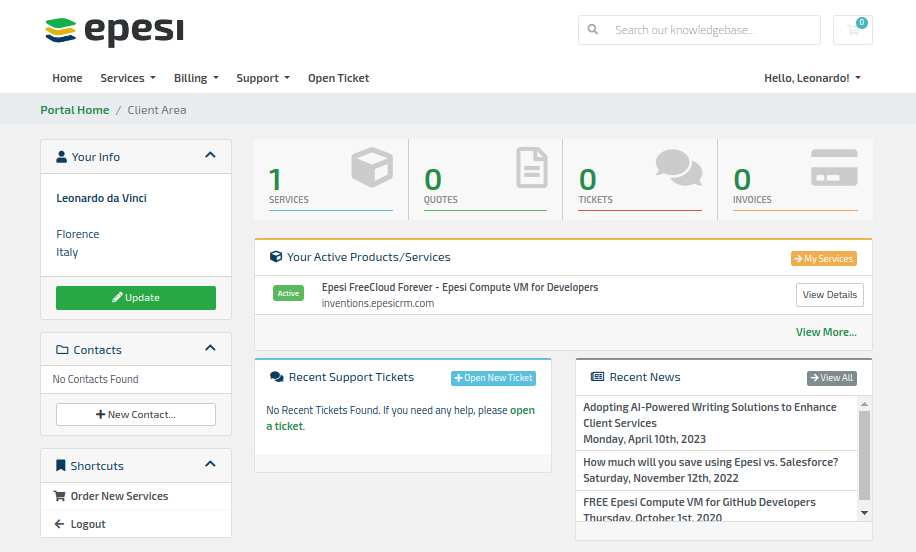 Screenshot of Client Area Dashboard on Epesi Cloud hosting platform
For Epesi Cloud Plans detailes, please visit epesi.cloud website.
Epesi CRM SaaS edition
If you want to get started instantly with Epesi CRM in SaaS model, we offer a Epesi Cloud hosting platform speciffically configured and managed for Epesi. In this model, you will not have to configure your own server. Epesi will be preinstalled on your Epesi Cloud platform Plan.
For more information about Epesi CRM as SaaS, please visit epesicrm.com website.